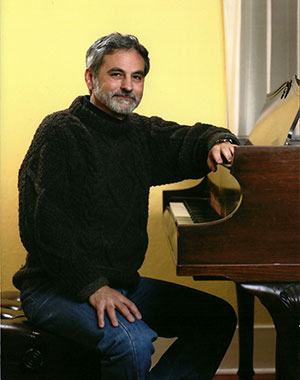 Welcome to fredkronacherpiano.com
Fred Kronacher
Santa Fe Piano Teacher / Pianist

Testimonials
As the mother of two daughters who studied piano with Fred Kronacher for ten years, I came to appreciate not only his technical instruction but his ability to challenge, inspire, and draw out the best from them. He was good at offering choices of music that appealed to them and kept them interested, and accommodated their busy schedules so that they could continue piano lessons. Through their studies with Fred, they developed a love of classical music that will last a lifetime.
Beth Schmidt
I have been a piano student of Fred Kronacher for the past eight years. Over these years, Fred has been an inspiring and diligent mentor, as well as a kind-hearted friend. Fred has taught me about the intricate language of music. He has taught me to appreciate hard work and consistency, always reminding me that this is "good for the soul." Fred is always eager to hear about what I am doing in school and in my everyday life. I thank Fred not only for always encouraging me to read, write, and compose, but also for encouraging me to think about education differently; for always reminding me of the value of "hands on" work and seemingly simple household tasks. Fred has taught me that playing music is a form of meditation. When I play Brahms, or Bach, or Chopin, or Rachmaninoff, I take myself out of everyday life and into a world of limitless currents of inexpressible thoughts and emotions. This, I must conclude, is good for the soul.
Selene Canter
Fred Kronacher has been our daughters' piano teacher for many years and he's done a wonderful job with making them top-tier musicians for their age group. At performances of all kind, they never fail to surprise the audience with their unexpected abilities. Teaming with Fred has been an investment in their futures and an all-round positive experience.
Nate Mills
Fred Kronacher is a very accomplished pianist with a vast repertoire of classical music at his fingertips and the ability to play and improvise in styles ranging from classical to Latin, jazz, and cabaret.
His knowledge of the classical composers makes him an engaging and interesting speaker. Fred is skilled at translating this knowledge into immediate demonstrations on the piano.
He is passionate about teaching the piano. He knows exactly how to share his enthusiasm with his many students and successfully motivates them to perform with astonishing musical and technical perfection. Fred has very high expectations and, in a playful and consistent manner, achieves a high level of musicianship from his students. He moves the lesson along quickly, starting with warm-up exercises followed by several piano pieces of varying length and level of difficulty, paying attention to every little detail and expecting no less from his students. Fred likes to challenge his students and as a result there is never a dull moment during any given piano lesson.
Silvie Plant
I used to shy away from performing for others, afraid of being anything but perfect. Now I find myself sitting down at the piano when guests are visiting, unprompted and ready to share the beauty of music. Fred Kronacher is a wonderful piano teacher. He is passionate about music and teaching and it shows in every lesson. He is patient and kind but expects the most from his students. He pushes all of his students to work hard and become better musicians. Most importantly, he wants all of us to enjoy playing the piano.
When I was younger and involved in other music lessons, I started to become disenchanted with music, due to the emphasis on contests and competitiveness. I had lost the joy in something that used to give me so much pleasure. When I began taking lessons with Fred (after moving back to Seattle), I started to remember why I love music and I have him to thank for that.
Munya Soviaia
To Whom It May Concern:
I would like to encourage you to invite Fred Kronacher to come to your school to present for your students.
This year, my sixth grade students specifically asked when Fred could come back. His presentations include delightful masterworks with great historic and cultural information, all presented in such a way that holds kids' interest and leaves them hoping for another presentation. His time with the students is wonderful because he shares interesting knowledge about composers, music historical periods, and presents it in a way that is perfect for the age of the kids, never talking down to them, but rather, including them in exciting stories that make music live for them. His has a wonderful sense of humor, and if it comes up in the discussion, he can play so much music by memory that he can immediately relate various relevant musical, historical, cultural elements, and styles, so that the kids become exposed to and engaged in musical analysis without even realizing it.
I have invited Fred to come to my school several times a year for seven years now, and he will always have an invitation to present here. The students and I love it, and you can tell that Fred loves to present to them as well. He is the Artistic Director of Musical Experiences, bringing informative piano performances and instrumental performances to Seattle several times each year. I have attended these concerts and they are full of wonderful information that brings a great understanding of the music and the composer. His classroom presentations are similar, helping the kids to more fully understand and appreciate the music, so they listen very actively!
I learned about Fred through a student in my music classes at Meridian Park Elementary in Shoreline. When this student would share his progress in piano lessons by performing occasionally for music class, it was clearly evident that he had an excellent piano teacher. This student's mom emailed one day and mentioned that Fred might like to come and present to the class. So we arranged it, and it was fantastic.
Because Fred's teaching style and pedagogy are the best I've encountered, I arranged for my son to study private piano with Fred the next year. My son was 13 and continued to study with Fred until he went to college, where he has continued to play piano independently and study organ in private lessons.
Fred has also written a book about his own musical experiences, which I'm sure he would share with you.
I can't give a stronger recommendation for having Fred Kronacher share his presentation and performance with students at your school. He is truly a gift to musical performance, music education, and to the community of Seattle!
Shari Anderson
Music Teacher, grades K-6
Shoreline Public Schools
---
Copyright © Fred Kronacher. All rights reserved.
Web design by Studio SixEight