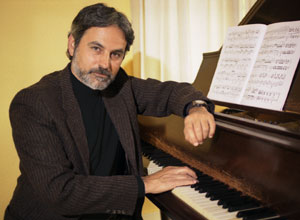 Welcome to fredkronacherpiano.com
Fred Kronacher
Santa Fe Piano Teacher / Pianist

I have been a dedicated piano teacher for 35 years. I have also been a performing concert pianist all through the years. I feel very fortunate to have had these two great loves; teaching the piano and playing the piano.
I offer piano lessons at my teaching studio, which is located in Santa Fe. I also offer piano lessons two days a week in Albuquerque at the New Mexico School of Music.

I have enjoyed, and continue to enjoy, working with many wonderful students; both children and adults, ranging in level from beginners on through advanced, accomplished pianists. It is always rewarding to guide a pupil on his or her musical journey.

I believe I have been a successful teacher because I truly love music and I also love people. My own thorough education (B.A. in Music Performance, Masterís Degree in Piano) and my rich experience as both a pianist and piano teacher have helped to form me.

I am a classical pianist, and as a teacher I stress the basic fundamentals of good musicianship. I teach not just piano technique, but music. I try to also be flexible and sensitive to each individual studentís needs. It is always my goal to nurture a lifelong love for music, while instilling the value of careful, disciplined practice.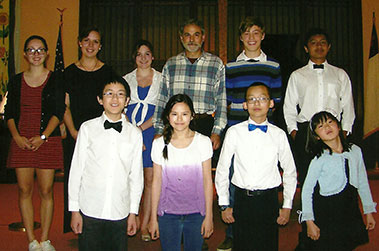 In addition to private lessons and concert performances, I also volunteer in area schools, bringing the music and stories of great composers to primary school children.
Please feel free to browse this web page and follow the links to learn more about me.
Fred Kronacher
505-428-0437 director@musicalexperiences.org
Education
Bachelor of Arts, Applied Piano, Ithaca College, Ithaca, NY
Master's of Music, Piano Performance, Manhattan School of Music, New York, NY
Experience
7 years, faculty, Brooklyn Conservatory of Music, New York, NY
28 years, private piano teacher, Seattle, WA, and now in Santa Fe, NM
24 years, artistic director, Musical Experiences (musicalexperiences.org), Seattle, WA

Sample Performance
Testimonials
Our daughter began lessons with Fred Kronacher at five-and-a-half, and through nearly twelve years she has grown from a small child to a young adult with Fred as a gifted teacher, musical guide, and mentor. With patience, kindness, firmness, and camaraderie, Fred has seen her through sheet music thrown in frustration, tears shed over mistakes, and smiles inspired by a joyful connection with the piano and its music. Over the years Fred has done far more for our daughter than teach her to play piano: through his wisdom and infectious musical enthusiasm, he has instilled and nurtured a deep appreciation and understanding of music – a gift she will enjoy for the rest of her life.

Andrew and Betsy

This year, my sixth grade students specifically asked when Fred could come back. His presentations include delightful masterworks with great historic and cultural information, all presented in such a way that holds kids' interest and leaves them hoping for another presentation.
I have invited Fred to come to my school several times a year for seven years now, and he will always have an invitation to present here. The students and I love it, and you can tell that Fred loves to present to them as well.
Because Fred's teaching style and pedagogy are the best I've encountered, I arranged for my son to study private piano with Fred the next year. My son was 13 and continued to study with Fred until he went to college ...
I can't give a stronger recommendation for having Fred Kronacher share his presentation and performance with students at your school. He is truly a gift to musical performance, music education, and to the community of Seattle!

Shari Anderson
Music Teacher, grades K-6
Shoreline Public Schools
---
Copyright © Fred Kronacher. All rights reserved.
Web design by Studio SixEight